February 12th, 2010
I met a client who believes strongly in internet marketing. When Locus-T proposed social media marketing to this particular client to enhance the company's online marketing effort, they are acceptance to the idea. There is only one thing that they do not want: a Facebook page. The main reason? The company does not want anyone to write bad things on a platform that they created themselves. For them, this action is equivalent to setting a trap for themselves.
They are thinking: People can say whatever they want at forums and portals, but we cannot control this. After all, the forums and portals are not mine. Why should we make our own platform to let people complaint about my products or services and spread rumours about me?
Now, let us see why a company or website should have a Facebook page.
Continue reading »
Social Media, Social Media Marketing (SMM), Social Media Optimization (SMO)
|
Comment (0)
November 23rd, 2009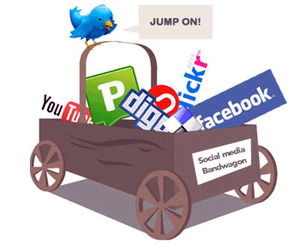 Many things are said about Social Media Marketing (SMM). Here are some myths that are usually thought about social media marketing:-
1. Social media is free
Everyone loves free things. There are many tools available to implement social media such as Wordpress (blog), Facebook (social networking site), YouTube (video sharing site), Twitter (micro-blogging site), and del.icio.us (bookmarking site). Although the cost of social media is low, but the investment in time, effort and resources is relatively high. For example, a company needs to have a dedicated employee such as "social media officer" to implement and operate social media programs. Social media is not only about setting up a few accounts, and try to automat them. To carry out social media well and properly, social media takes time and money.
Continue reading »
Social Media, Social Media Marketing (SMM)
|
Comment (0)