November 23rd, 2009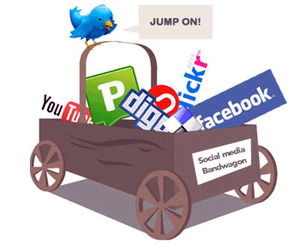 Many things are said about Social Media Marketing (SMM). Here are some myths that are usually thought about social media marketing:-
1. Social media is free
Everyone loves free things. There are many tools available to implement social media such as Wordpress (blog), Facebook (social networking site), YouTube (video sharing site), Twitter (micro-blogging site), and del.icio.us (bookmarking site). Although the cost of social media is low, but the investment in time, effort and resources is relatively high. For example, a company needs to have a dedicated employee such as "social media officer" to implement and operate social media programs. Social media is not only about setting up a few accounts, and try to automat them. To carry out social media well and properly, social media takes time and money.
2. Social media is easy
Apart from being free, everyone thinks that social media is easy. In reality, social media takes a lot of time and effort on daily basis. Social media means hours of effort to monitor, track, engage and interact with people on different platforms.
3. Social media a standalone activity
Social media is not just an add-on or accessory, but it is a complement to a company's marketing, communications and sales activities. Successful social media needs to be in line with a company's brand, vision, and strategic goals. Social media is the voice of your company. The best marketing strategy is to round social media marketing and also traditional marketing.
4. Social media is just a marketing tool
Social media is not as simple as most of us think. It is a powerful marketing tool, which needs someone with proper skill and time to leverage it.
5. There is no such thing as quality relationship on social media
There are people who think that it is ridiculous and obscure to build relationships with people you do not know online. They believe that this type of relationship is not long-lasting and does not lead to sales conversion. Social media is a way for companies to be connected to target audience. Even if they do not become your customers, the ideas and thoughts given to you is priceless. Most of your target audiences connect to your company through your friend, and this relationship is the best.
6. Social media is difficult to measure
Social media marketing is seen as an activity that does not generate return due to the difficulties in measuring return on investment (ROI). There are many analytics tools that can be used to provide insight with useful information to analyze and evaluate your social media marketing efforts.
7. Anyone can do social media marketing
There are many people claiming that they are social media experts and social media gurus. How many of them have actually created a successful campaign for clients using social media? No one can claim to be an expert in this ever improved social media field. It is time to check the reputation of your social media marketing provider, and if you are paying you are paying a college student to do freelancing job, the result you get is surely worth what you are paying.
8. You can make it big through social media
Social media is not something that can change your company overnight. Some of the brands can generate traffic to their social media sites because of the existing network which they have built over the years.
9. You can do it all in-house
Unless you hire a person who has it all – to name a few, programming, computing, marketing, strategy, management, contact, tools and experience; it is not possible to do all the social media activities in-house. It is very rare to find an in-house team that not only can execute a social media campaign, but also drive traffic to it. You provide the content, and leave the rest to the professionals.
10. Social media marketing is all about sale
It is a perception of many businessmen; to implement social media marketing is all about selling their own products or services through social media channels. Social media is all about engaging in conversation, connects to audience, enhance each others' experience, and create social buzz.
The myths are not necessarily implied to all, but it does illustrate the misunderstanding on social media marketing. It also shows that social media marketing is still at the early and development stage, where there is still no best practice. Over the times, people will start to appreciate the true function of social media, and realize how social media can fit into the strategic goals of companies.
Social Media, Social Media Marketing (SMM)
|
Comment (0)